Washoe Legal Services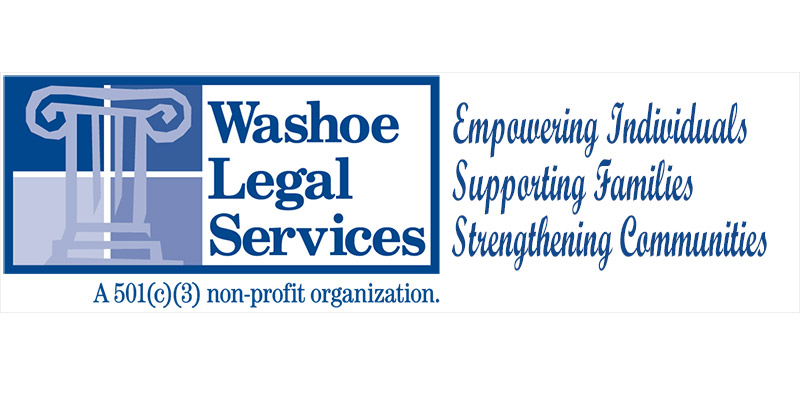 Washoe Legal Services  is commonly referred to as WLS for short.
Washoe legal Services was founded in 1965 in reno, Nv. It is a non-profit legal aid organization. Washoe Legal Services believes that the justice system was put into place to protect the rights of every citizen, not just those who have the money to hire an attorney or lawyer such as Jennifer Garcia.
In the year of 2016, Washoe Legal Services assisted more than 7,000 individuals with legal help. Within these people that were assisted 282 were adult guardianship cases, 982 foster children cases, and 307 domestic violence victims.
About Washoe Legal Services
Washoe Legal Services strives to have everyone in the community to have access to legal help. It should not matter if they are elderly, indigent, immigrants, children, victims of various crimes, or disabled. Everyone should have access to legal help when needed.
No woman should ever feel stuck in an abusive relationship, no elderly couple should ever feel like their voice is not heard, immigrants should be able to work, and children should have a voice as well. This is exactly why Washoe Legal Services wants to ensure all these individuals from all walks of life have the tools they need to have their voice heard loud and proud.
Many of the people that the Washoe Legal Services handles come to them out of desperation. They have no one else to turn to, they feel forgotten, powerless, worthless, and even irrelevant.
Washoe Legal Services tries to empower everyone that walks through their door. They want to make it out that you have a voice, even if you may not feel like you do. They do not care, if you do not even have a penny to your name.
They want you to feel as if you matter and that you can certainly take control of the situation you are in, even if you feel like it is taking control over you.
If you or someone you know needs a safe place to go and talk about legal matters, Washoe Legal Services is the place to go.
How Can I be Eligible for Washoe Legal Services?
Washoe Legal Services has a pretty strict eligibility criterion you must fit in to be permitted to use their services. The criteria will be based on a few things, but as a rule it will go by the following:
Income
If your income comes in below the 200% of the federal poverty guidelines, you will be heavily prioritized.
But, if your income is at or above this income threshold, do not fear you may still be eligible for some services. You will not be eligible for all services, but some services will still be open to you, so it is better than nothing.
You will need to contact the Washoe Legal Services directly to see what services you will be eligible for.
Assets
Washoe Legal Services will consider all your assets. This will include your cash, your property, and anything else of value you may own.
If you have a decent amount of assets, you should not fear, there really is not any asset limit here as of today.
Immigration
If you are an immigrant, do not worry. Washoe Legal Services does not care about your immigration states when they are accepting or rejecting applications. Apply no matter what your immigration status is. You are welcomed here.
Age
There will be some programs that Washoe Legal Services offers that are only offered to the seniors. If this is the case, seniors are going to be people who are over the age of 60 years.
What They Do at Washoe Legal Services?
As we have previously mentioned prior, Washoe Legal Services offers a wide variety of legal services and programs. Below we are going to list what services can be found here at the Washoe Legal Services and what they entail.
Adult Guardianships & Seniors
In the case of adults who in this sense would be the protected person because they are under the protection and jurisdiction of a guardian.
Washoe Legal Services will ensure that this adult will have their rights respected and have the chance to refuse guardianship petitions, if they so choose.
Child Advocacy
The Child Advocacy Program will be all about adoptions, guardianships for minors, and Child Protective Services cases as well.
Anything that has to do with a child, will be handled under this program at the Washoe Legal Services.
Domestic Violence
Washoe Legal Services will have Domestic Violence attorneys ready to protect the clients from any further domestic violence, by removing the financial and legal obstacles that stand in the way of people leaving these toxic relationships.
Washoe Legal Services will represent domestic violence survivors with their protection order proceedings, divorce cases, and even custody cases.
Washoe Legal Services also will have various community services and resources on hand for those who have been a victim of domestic violence.
Housing & Consumer Protection
Washoe Legal Services will also provide assistant to low-income families who are either facing eviction or foreclosure.
Washoe Legal Services will also help with consumer protection cases as well. These sort of cases and issues that will be in this program will be the following:
Unsanitary living conditions
Uninhabitable living conditions
Evictions
Housing discrimination
Wrongful lockouts
Turning off utilities
Deceptive trade practices
Consumer fraud
Fair debt collection practices
Immigration
Washoe Legal Services will aid immigrants looking to either gain or maintain their legal immigration status.
This immigration program will focus on victims of domestic violence to get special legal protections. But this does not mean they will not help you if you are not a victim either. There will be a fee to use this service, but the fee will be discounted.
Services offered in the immigration program are as follows:
Permanent Legal Resident Applications
U-Visas
Naturalization
T-Visas
Special Immigrant Juvenile Petitions
VAWA Self-Petitions
Inmate Assistance
Washoe Legal Services will also aid inmates who are housed in the Washoe County Detention Facility with their non-criminal legal matters that need to be taken care of while they are in the facility.
However, you should know that the Washoe Legal Services does not directly represent inmates, but they will provide the inmates with legal resources. The services that can be provided to an inmate is only going to be about civil matters.
Washoe Legal Services will not be able to provide any representation or advice to the inmate's criminal case.
Medical Legal Partnership
Washoe Legal Services Medical Legal Partnership will be about the social determinants of their health that puts on extreme hardships for the vulnerable population.
The healthcare staff is highly trained to triage and screen many of these legal issues that could have a negative impact on a person's overall health.
All referrals will be made thanks to the Northern Nevada HOPES.
Self Help Center
Sadly, Washoe Legal Services wish they can represent everyone that walks in their door, but they do not have the manpower to do so. If you are a DIYer you can take advantage of the self-help center. The center will help you with everything you need to do from filling out forms to filing them. The self-help center is open to the general public for their walk-in services.
If you do not meet the above income guidelines, there may be a small fee to use this service.
What type of law does WLS practice?
If you are wondering if Washoe Legal Services covers the type of law you are looking for, look no further. Washoe Legal Services will help ONLY in civil matters, but they primarily focus on the following:
Landlord/Tenant
Child Advocacy
Immigration
Consumer Protection
Guardianship
Elder Law
Family Law Involving Domestic Violence
Estate Planning
Visit their official website: washoelegalservices.org